Description
King Crimson Print Collection Box Information:
Number of Prints in this Collection: 8
Inlaid cover print: "Perkins Palace Marquee 1981"
Collection Box Type: Clamshell-Style, lipped
Box Fabric Color: Iris Black
Accent Signature: Gold Foil
Height: 1.5 inches / 4 cm
Width: 24 inches / 61 cm
Length: 17 inches / 43 cm
Weight: 5.5 lbs / 2.5 kg
Number of Full Collection Box Sets Total: 50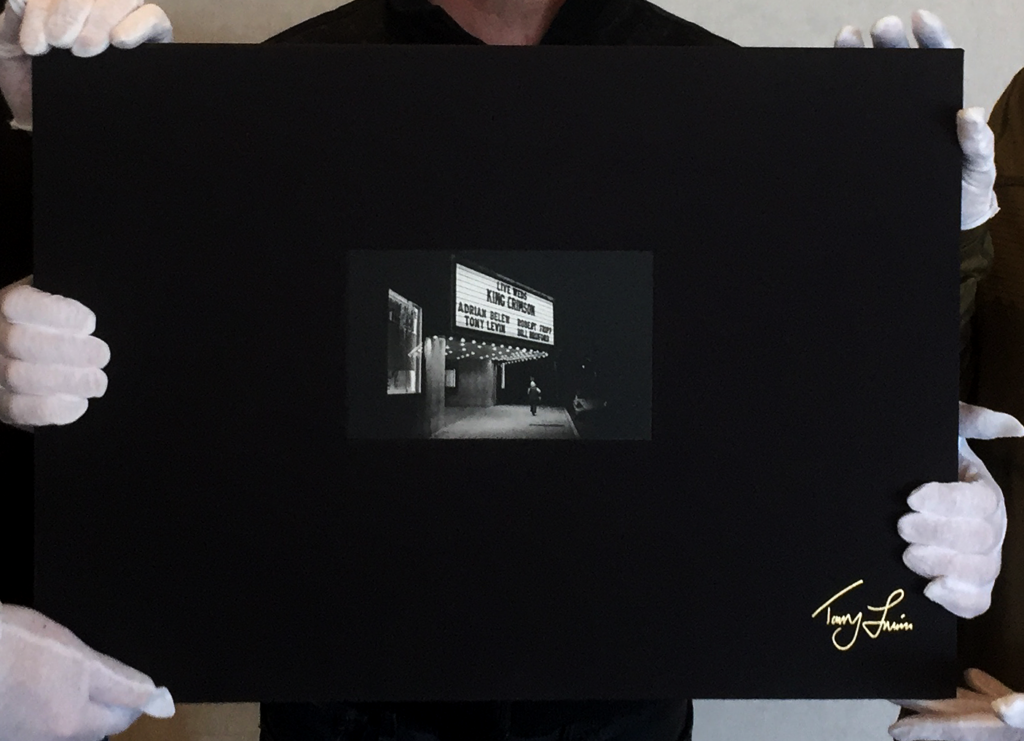 Includes All Eight King Crimson Prints:
1. Adrian Belew, Backstage 1981
2. Bill Bruford, Bristol 1981
3. King Crimson, Faro, Portugal 1982
4. King Crimson, Royal Albert Hall 2019
5. King Crimson, Asbury Park 1982
6. On the Shinkansen 1981
7. Perkins Palace Marquee 1981
8. Robert Fripp, Krakow 2018
Photogravure Print Information:
Process: Intaglio / Polymer Photogravure
Paper: 300 g/sm, 100% alpha cellulose, Brite White
Ink used: Charbonnel Carbon Black etching ink
Print paper size: 22.25 x 15.5″ / 56.5 x 39.3 cm
Number of prints in each edition: 500
Year First Issued: 2021
Eight, King Crimson photogravure prints, hand-selected by Tony Levin especially for this project, with signed Certificates of Authenticity and white, cotton gloves are included in this special edition print collection box.  Only 50 of these elegant, lipped, clamshell-style box sets of prints will be produced and sold.  Prints are 22.25 x 15.5″ / 56.5 x 39.3 cm, and are made on 300 g/sm heavy-weight German etching paper using only the finest, traditional, French, oil-based ink.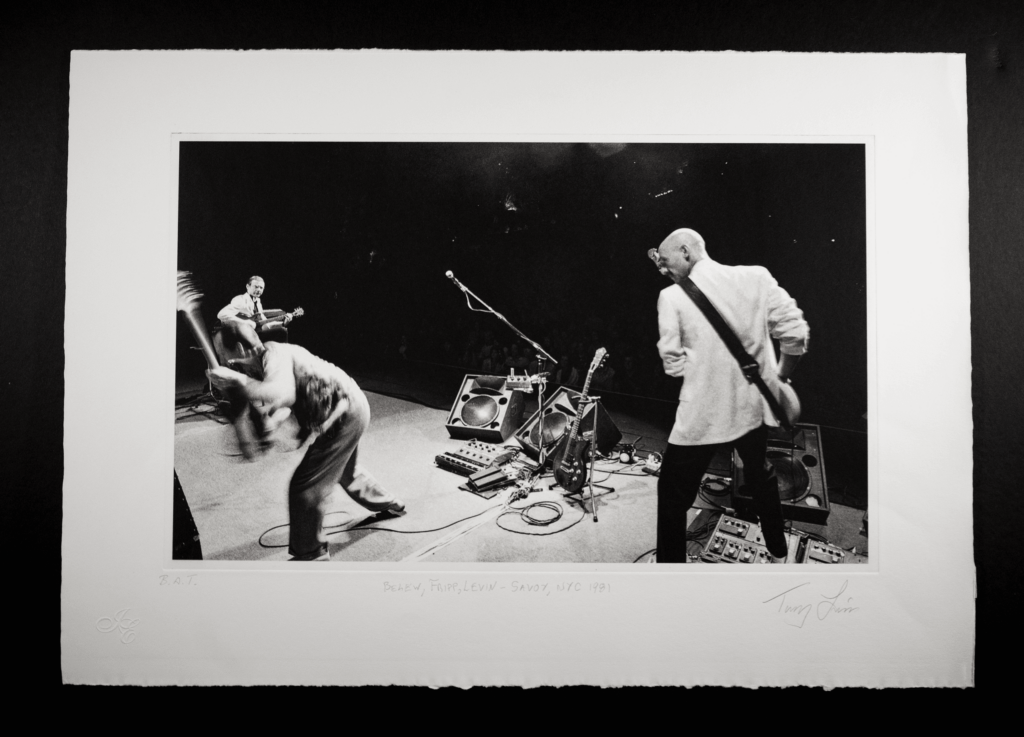 These classic King Crimson moments are rendered on true archive-quality paper, with carbon-black, oil-based inks, curated and signed by Tony Levin.  Your matching-numbered and low-numbered prints come in a limited edition, custom-crafted, clamshell print collection box, gold foil-stamped with Tony's signature. The museum-quality print collection box is custom-constructed with basswood, wrapped in Iris black fabric and has a small photogravure print of "Perkins Palace Marquee 1981" inlaid on the cover.  A set of large and small complementary cotton gloves for handling your prints are also included.
The innovative music of Tony Levin has been keeping us in good company for decades.  Now, so can his photographs, as traditional, limited edition, photogravure prints by Intaglio Editions. These are not inkjet prints, but hand-made, traditional works of art on paper that are produced under, one ton of pressure, on our classic, intaglio printing press.